Today, It's time to look at my personal favourite punching bag. It's the RDX KT Ronin review. I may be a little biased, but I think it's the best punching bag on the market (for it's price tag).
Unleashing your inner Anthony Joshua on a punch bag is an excellent way to burn calories. In fact, Boxing is one of my favourite sports when I'm 'cutting', due to it being the most exciting form of cardio. I've tried running, cycling & rowing… but the motivation just doesn't quite cut it. When you're practicing on a punching bag, you urge yourself to continue as you feel your punches getting stronger.
Without wasting any time, let's get into this RDX KT Ronin review so I can show you why I rate it so highly!
The KT Ronin punchbag is defined as an XXL Free standing punch bag, due to it's huge 35cm surface, making it a perfect target for your punches and kicks. It's been built to last, with multiple layers of Anti-Tear Maya Hide leather, alongside high density foam lining. In addition to being durable, it provides fantastic shock absorption.
The physical design of this punching bag is great, although quite intimidating when it's kitted out in the triple black decals.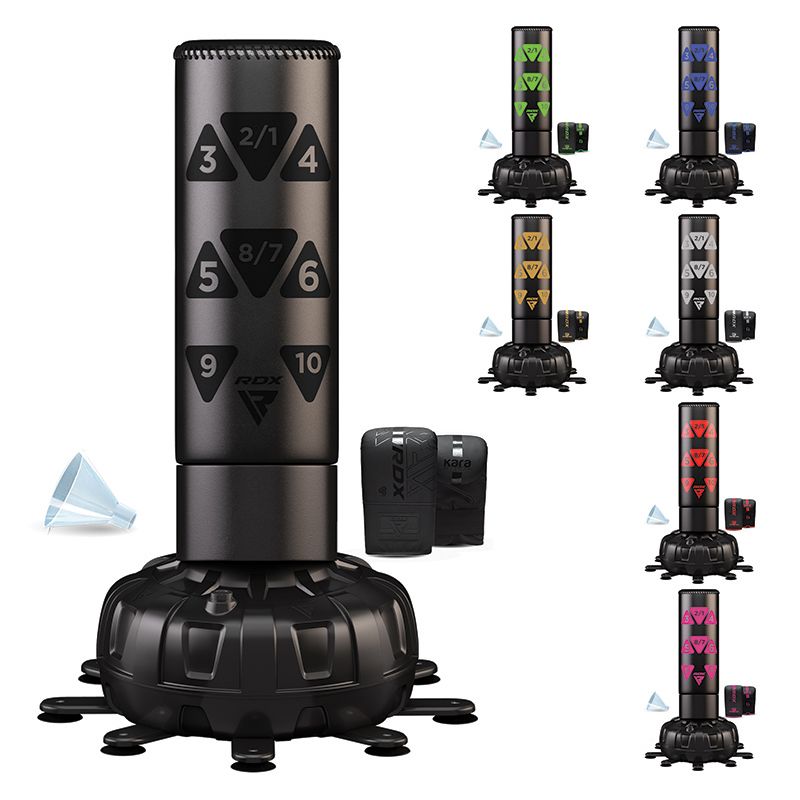 I like this though, I don't want a childish looking punching bag in my home gym. The base of the bag is quite large, but it has to be in order to support the width of the punchbag. It looks like a monster truck tyre, which is again a little intimidating! To fill this, you'll need 120kg of sand, or 80 litres of water. It's got an easy-fill opening too, to ensure you don't make a mess of your gym floor.
It stands at 181cm, which is a tiny blip away from 6 feet tall & it's the biggest punching bag on the market to date. There are also extendable feet which can be extended, to expand the base area and improve stability. These legs have suction cups, 17 of them to be exact.
For £149.99 this bag offers extreme value. It's made by RDX, who are well-known for producing quality fighting gear. RDX also supply a pair of mitts with this punching bag, which means you can practice your Jab, cross, hook combos as soon as you've assembled it!
You will get an extremely effective workout with the RDX KT Ronin as due to the width of it, you'll have to work a little bit harder on your footwork when circling the bag. If you're into Mixed Martial Arts, this will also handle your roundhouse kicks with ease.